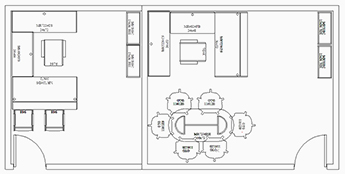 Office Space Planning
Richmond Office Interiors provides space planning at no cost to you, ensuring that the furniture you buy will fit your space as effectively as possible. We use industry software to design and configure your office space.  With our software, we offer several designs from which you may choose. We can also build your layout right in your office area. Call us today to see how we can help you to design your office space for optimum efficiency, and maximize the return on your investment.
 
---
Cubicle & Workstation Installation
Whether you are installing new or used cubicles, Richmond Office Interiors trained staff will ensure any new workstations are built professionally with safety always in mind. Our staff is knowledgeable in installing a variety of product brands and types. No matter if your business is large or small, you can rest assured knowing your cubicles are securely installed.
 
---
Office Space Reconfiguration
Richmond Office Interiors trained staff will work closely with you and your team to meet both your needs, and comply with codes and regulations when it comes to designing your office space. Our experienced staff, coupled with specialized computer design programs, allow us to create efficient, accurate drawings of your interior space that will best utilize your space and furnishings.